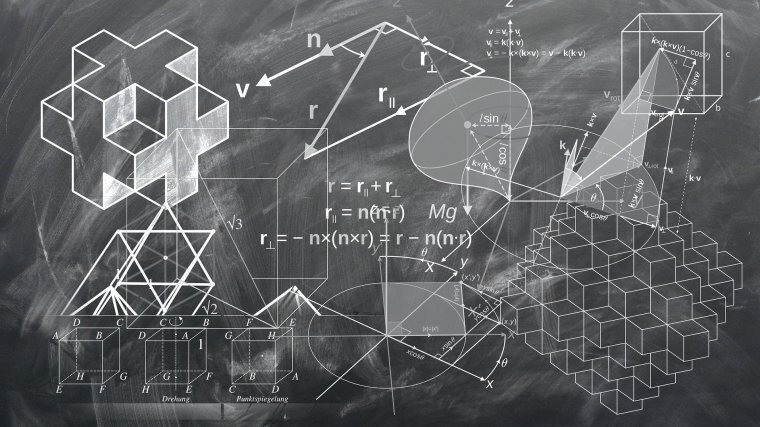 E-Assessment – Information for students
Students can find information on digital examinations at the Friedrich Schiller University Jena here.
Geometrische Figuren und Berechnungen auf einer Tafel
What is an online exam?

Online exams are different types of exams that you usually take at home. These can be oral examinations, colloquia, poster presentations, but also written examinations. Teachers will inform you at least 14 days before the exam if it will be a digital format.
What technology do I need in order to take an online exam?

Your teacher will inform you about the necessary equipment in advance. Depending on the exam format, you will need an internet-enabled computer, a webcam, a microphone, and a way to scan something (a smartphone with an app that converts photos into PDF-files might suffice). If you do not have a webcam, in most cases a smartphone in combination with a headset will be sufficient.

If you have problems with the technical equipment, please contact the teacher. In case of written exams, most teachers conduct a test exam or offer a test run before the exam. In this way, you can experience what a digital exam situation feels like and find a solution to potential technical problems before the real exam is written.

For the exam to run smoothly it is important that you are not connected to the VPN client on your computer during the exam, that all applications that are not needed for the exam are closed, and that all ad-blockers are switched off.
How do I avoid disturbances during the test?

Besides the technical equipment, you need a good exam environment. Flatmates running through the picture or loud music from the neighbouring room are disturbing factors that you can eliminate in advance of the exam. If you share a router with your flatmates, it would be best if they did not immerse themselves in an online game or download films during your exam, but leave the bandwidth to you. Discuss these matters with your flatmates and, if necessary, lock the door to your room to avoid disturbances. It is also advisable that you tidy up your workplace before the examination so that the suspicion of the use of unauthorized aids does not arise in the first place.
How should the camera be set?

For online exams via web conferences, camera settings are an important factor and should be tested by you in advance.

During an oral exam, your entire upper body and hands should be visible to the camera. It is also advisable that your locked room door is visible behind you.

If you have a written exam, the camera must be positioned so that you and your entire workplace are visible.
What do I do if I have technical problems during the online exam?

The lecturers of the University of Jena offer you a possibility to identify and eliminate all technical problems that may occur by means of technology tests or test exams before the real exam. This makes it even more important that, should technical problems arise during an exam, you provide reasonable proof and do not make the situation worse out of panic. If technical problems occur during an online exam, do not try to change the settings or click around, but contact the person responsible for this exam immediately You must then document the problem and its duration in the best possible way in order to provide the examiner with evidence. This documentation can be a screenshot or a mobile phone picture. It is important that the date and time are visible. The contact person may also ask you for further evidence.

In the event of proven technical problems, you will be given the opportunity to repeat the test, if necessary on site. If the question of whether the technical malfunction actually caused you to be unable to take the exam leads to a conflict between you and the teacher, please always contact an institution within your faculty first, e.g. the examination office or the student advisory service. The deans for student affairs of your faculty will also be happy to help you.
How do I behave during an online exam?

During the online exam, as with a face-to-face exam, you should notify the examiner if you need to take a toilet break. However, it is better to visit the toilet before the exam. You should also have food or drinks ready in advance.

Constant looking at the smartphone or other unusual behaviour may cause the examiner to suspect cheating.
What do teachers who suspect cheating do?

In this case, teachers are authorized to enquire further, for example by bringing you into a break-out session. The teacher can also 'walk' you into another virtual room for a short time to check your identity. In case the examiner suspects cheating, it is also possible that you will be asked to pan your camera through the room once in order to rule out that there are other people in the room or that unauthorized equipment has been deposited.
Should I really turn on the camera during an exam with video surveillance?

The short answer is yes, please. As with a face-to-face exam, the teacher wants to supervise you to prevent the use of unauthorized aids. From the teacher's point of view, no other 'observation' takes place than is usual in a face-to-face exam. Furthermore, you have the possibility to use a pseudonym (which you agree upon with the teacher beforehand) in order not to have to reveal your identity to the video conferencing provider or other students. The University of Jena has concluded contracts with several video-conferencing software providers and had comprehensive privacy settings made. In this way, the University guarantees data protection when using the respective technology.
Please note that neither the lecturer, not the students are allowed to video/audio-record the videoconference session.